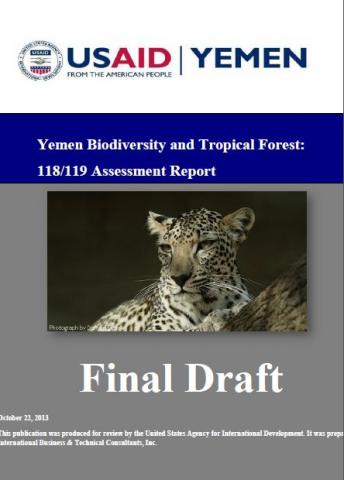 Sections 118 and 119 of the Foreign Assistance Act, as amended, require the U.S. Agency for International Development (USAID) to prepare a country analysis regarding the status of conservation and sustainable use of tropical forests and biological diversity to be included in the preparation of the Agency's country level strategic plans, now referred to as Country Development Cooperation Strategies. The procedures for these assessments are contained in the Agency's Automated Directives 200 series which incorporate the FAA requirements to include:
Tropical Forestry (FAA 118) Analysis in all countries at latitudes between the Tropic of Cancer, approximately 23 degrees north latitude, and the Tropic of Capricorn, approximately 23 degrees south latitude; and
Biodiversity (FAA 119) Analysis in all countries, both tropical and non-tropical.
This report provides an analysis of the current status of Yemen's tropical forest and the biodiversity of the country based on a rapid assessment of readily available information and data. Based on that assessment, recommendations regarding:
1) action necessary for conservation and sustainable management of tropical forests and/or biodiversity, and
2) programming considerations for USAID to ensure any proposed actions supported by the USAID Mission in Yemen is consistent with the requirements of FAA Sections 118(e) and 119(d).
Yemen Biodiversity and Tropical Forest
Countries
Yemen